Acclaimed Designer Jamie Drake Announced As Second BOLD Master Award Recipient at The Business of Luxury Design (BOLD) Summit
The BOLD Summit, the premier business conference for principal designers, proudly announces acclaimed designer and regarded entrepreneur Jamie Drake FASID as a BOLD Master Award recipient joining the 2017 BOLD Summit roster. Drake is the second of three BOLD Master Award winners and will present to fellow principal designers at the conference this September 25th-27th at the renowned Auditorium Theater in Downtown Chicago.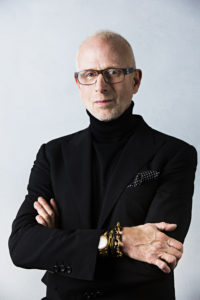 Drake, co-principal of Drake/Anderson, brings a wealth of experience with more than 30 years of vibrant interior design expertise. One of the most distinguished and well-known designers today, Drake is regarded as a modernist combining a daring color and style approach with an expansive comprehension of design from decades past and present. Creating environments that are both glamorous and eloquent, Drake focuses on crafting captivating, fashionable spaces that remain personal to each client. His distinct, one-of-a-kind sense of style has been sought after by an array of high-end clientele including former New York City Mayor, Michael Bloomberg and recording artist, Madonna.
"The BOLD Summit aims to bring forth the best of the best with driven principal designers who are inspired to elevate the business practices of those who share their same passions," states Julia Molloy, Owner BOLD Summit and Julia Molloy Consulting. "It's an honor to introduce Jamie Drake as a BOLD Master Award recipient and presenter this year. Drake's unique design approach and unmistakable flair is inspiring to so many who have had the pleasure of experiencing his work. He will be opening up his wisdom and expertise in an open forum Q&A as well as hosting an intimate round table discussion at BOLD. I am quite certain this rare experience will be unforgettable and awe-inspiring."
Among accolades too numerous to mention, Drake has been on Architectural Digest's prestigious AD100 list of top architects and designers for several years – including the new 2017 list – and is also a member of ELLE DECOR's distinguished A-List since 2012. He was honored with Fashion Group International's Night of Stars Award for Interior Design, named a Master Class designer by House Beautiful, and was inducted into Interior Design magazine's Hall of Fame in 2003. Drake's work has been featured in virtually every design publication of note, including ELLE DECOR, House Beautiful, Interior Design and Architectural Digest. Extremely active in many causes, Drake currently serves as chair of The Alpha Workshops, where he also has been a board member for many years. He is a recipient of a Partnership for the Homeless Director's Award and is a longtime supporter of Housing Works, He is a board member of Parsons, his alma mater.
BOLD Summit is the most dynamic and powerful resource for business development and collaboration in the design industry. The 2017 Business of Luxury Design Summit will feature high-level presentations, intimate round table discussions, a BOLD Attendee Product Showcase and a lavish lunch each day. The 2017 BOLD focus is expanding your brand and revenue streams, increasing profits, PR and marketing techniques.