How to get the most out of your PR Roundtable at BOLD Summit
On a Need to Know Basis:
How to get the most out of your PR Roundtable at BOLD Summit

Frank Advertising is BOLD Summit's PR agency and they are truly experts in the home and design industry. We're thrilled to be partners with them and to offer their expertise to you at the BOLD Summit. So if you had a PR guru cornered for a few minutes – what should you ask? What are the key takeaways that could make a difference in your business tomorrow? We asked Lori Dolnick, Senior Vice President at Frank Advertising how to get the most out of a PR Roundtable at BOLD Summit.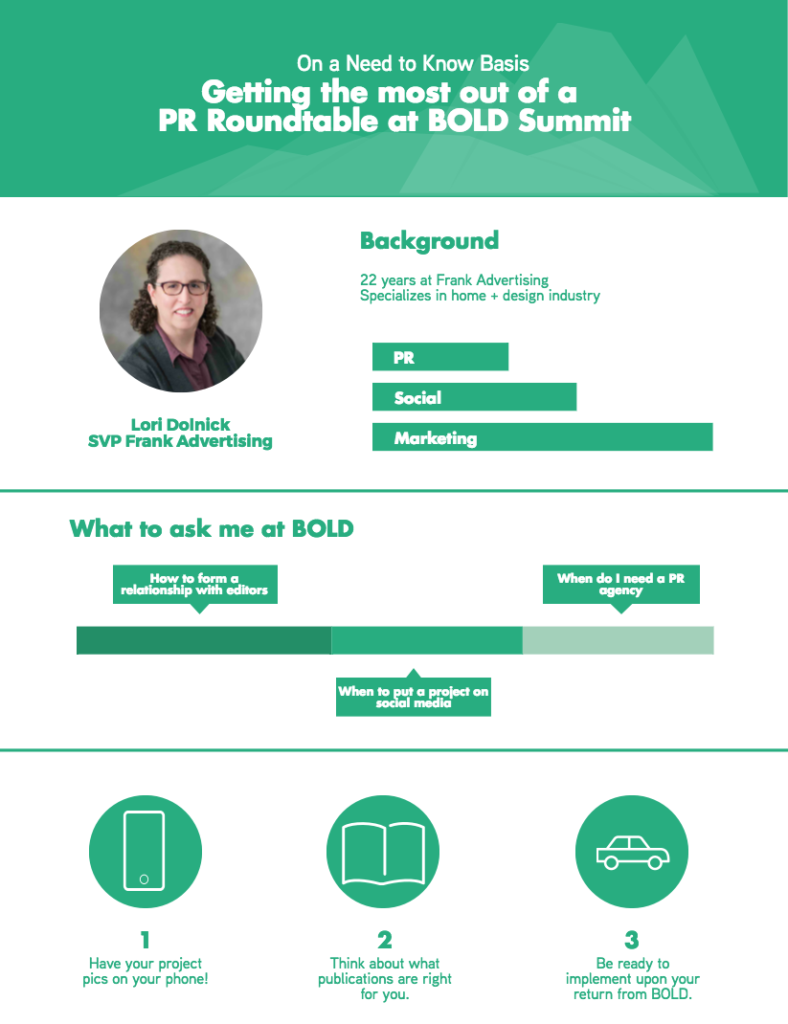 How long have you been at Frank Advertising? 
Lori: I've been at Frank Advertising for 22 years and all that time focused on building success for businesses in the home and design industries. But as you know, the business is really changing at a rapid pace right now and designers need to be on their toes to stay current and cutting edge today.
So how would you advise them to approach you at the PR Roundtable?
Lori: I've done a lot of roundtables and they are really the secret sauce at a leadership conference. We've gotten more connections and information in just a few moments at a roundtable than sitting in a lecture hall. So here's five things you can ask me at the roundtable which can make a major impact in your business and in getting published. And make sure you have a few of your projects accessible on your phone so I can see your work.
1) What magazines and online publications should I be forming a relationship with? 
Every designer, developer, architect who comes to us with a project they want to promote wants to be on the cover of a certain magazine. Every… single… one. I start to think – have they read this magazine? The first section on their website's navigation bar is "Celebrity Living." Most of the projects we've seen – the vast majority are not owned by either a celebrity designer or a celebrity. Targeting your project to the right outlet is key. And the right outlet may not be the one you think it is – it should be the one that will get you the most leads. Show me your stuff and let's talk possible magazines and/or digital outlets.
2) How do I form a relationship with a publication? 
This is the area where a professional Public Relation's agency comes into play. We have those relationships. We speak to editors every day. But if you were to form those relationships yourself – you might want to identify the publications first, and meet with their ad sales people to get the lay of the land. Find out how you can become a partner. Enter the magazine's design contests. Submit projects. Offer the editors exclusives. Let's talk about what market you are in and who you should talk to.
3) Should I put my project on social media? 
Magazines and their online websites/social networks all want exclusivity. Once they feature a project – no one else will want to feature it. So if you want national coverage – you can't go posting it about until you achieve that coverage. Once the magazine is done with it – then you can share it out on Houzz, Instagram, etc. And you can go after local and trade magazines to get additional coverage. It's a waiting game for sure – but one project/one publication is the rule that applies.
4) What's one thing I should do when I get back?
If you are on Twitter especially – but since it's design it could be Instagram or Facebook too – you should make a "Twitter List" of the editors in your network. No editors? Find some. Then you can send them specific tweets about projects you are doing, awards you've won. You can like or comment on their articles. You can form that relationship. Be that expert they will look for next time they need a designer to talk to.
5) When do I need professional help? 
At the moment you have all these great ideas for doing it yourself – but you realize it will never get done. Or you've tried and you aren't getting results. When people call us it's because they can no longer sustain doing the vital marketing things they need to do to grow or because they've tried things and those things didn't work. That's when you know you are ready. When you are holding yourself back because you have other vital things to do and marketing falls by the wayside.
About Frank Advertising
Frank Advertising is the Rare Combination – a true full-service resource that genuinely knows your business. As public relations and marketing specialists in the kitchen and bath, design and tabletop industries, they create a place for bespoke products and design services in the minds of architects, designers and consumers. They big picture think, while helping clients with the smallest details.Transcending fads and fashion by building an emotional connection with the audience – after all, people don't buy brands, they join them. To learn more: www.frankadvertisingus.com